Stephen Bush: Mule Skin, until 6 October, Sutton Gallery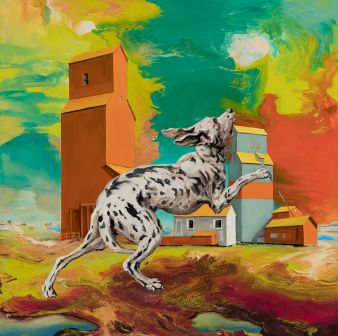 It's the final week to see the solo exhibition Mule Skin at Sutton Gallery by Buxton Contemporary Collection artist Stephen Bush.
Throughout his decades-long career, Stephen Bush has explored the possibilities and limitations of figurative painting. Known for his depictions of costumed participants and icons of visual culture set within idealised landscapes, Bush utilises the canvas to advance ideas about the dualities that describe the crises of contemporary existence.
Mule Skin runs until the 6th of October. For more information head to Sutton Gallery.
Image: Stephen Bush, Chester Baker, 2018. Oil and enamel on linen. Image courtesy of Sutton Gallery.
Static No.12 (seek stillness in movement) is now on display at the Latrobe Regional Gallery. Part of the Time Slice series, Crook's ongoing project which he began in 1999, this single-channel video depicts a simple garden courtyard in Shanghai where an elderly man is...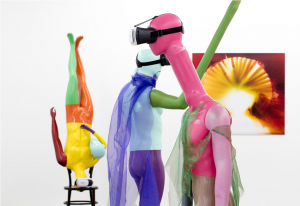 New works by Buxton Contemporary Collection artist Justene Williams are on view at Sarah Cottier Gallery in Sydney till 15th of December. For more information visit Sarah Cottier Gallery website. – Image: Justene Williams, Project Dead Empathy, 2018,...