Satellite Anthem, curated by Kate Just, Assembly Point, 2-26 May 2019
National Anthem curator Dr Kate Just, has curated a new exhibition Satellite Anthem at Assembly Point vitrines on Sturt Street.
Satellite Anthem features artwork from 12 current VCA students. The exhibition is an extension of the themes and ideas in National Anthem, including the impact of colonial histories, the struggle for LGBTIQ equality and the prevalence of a white western gaze. Forging new representations of national identity, Satellite Anthem showcases emerging talent from the VCA School of Art.
The exhibition runs from the 2nd until the 26th of May.
_
Image: Installation view, Satellite Anthem, Assembly Point vitrines, 2019. Image courtesy Dr Kate Just.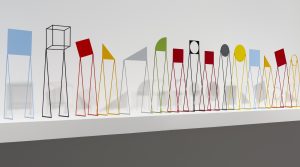 In review of Bauhaus Now! in Mass Memo, Celine Saoud writes: "Curated by Ann Stephen, Bauhaus Now! explores the movement's impact on the fine arts by displaying a wide range of installation, video, painting and sculpture that depict a modernised,...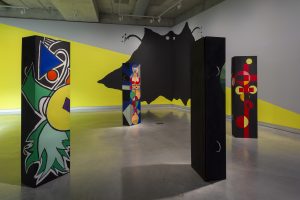 In review of Bauhaus Now! in The Age, Ray Edgar writes: "Messy, hallucinogenic and phantasmagorical are not words we associate with the Bauhaus. However in a new exhibition to mark the movement's centenary there are none of the sleek functional industrial design...