REVIEW – No one is watching you: Ronnie van Hout
Reviewing No one is watching you: Ronnie Van Hout for The Saturday Paper, Lisa Radford writes:
"In a time preoccupied with self and the individual, these works and their arrangement speak not only of masculinity and being an artist but also of the fragility and farce of identity, of it being a collectively shared conscience."
Static No.12 (seek stillness in movement) is now on display at the Latrobe Regional Gallery. Part of the Time Slice series, Crook's ongoing project which he began in 1999, this single-channel video depicts a simple garden courtyard in Shanghai where an elderly man is...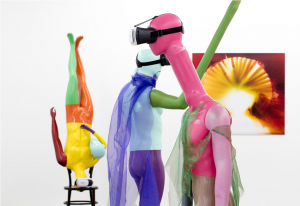 New works by Buxton Contemporary Collection artist Justene Williams are on view at Sarah Cottier Gallery in Sydney till 15th of December. For more information visit Sarah Cottier Gallery website. – Image: Justene Williams, Project Dead Empathy, 2018,...