Linda Marrinon, 'On Vulnerability and Doubt' at Australian Centre for Contemporary Art, Melbourne, 29 June – 1 September 2019
A selection of works by Buxton Contemporary Collection artist Linda Marrinon is included in exhibition called On Vulnerability and Doubt held at Australian Centre for Contemporary Art, Melbourne. Curated by ACCA's Artistic Director Max Delany, the exhibition brings together artists whose works variously engage with questions of vulnerability and doubt, intimacy and desire, shame, love and awkwardness, through mediums including painting, printmaking, sculpture, performative photography and video and features Australian and international artists Andrea Büttner, Cherine Fahd, Brent Harris, Tala Madani, Linda Marrinon, Archie Moore, Charlie Sofo and Ambera Wellmann.
On Vulnerability and Doubt continues till September 1 2019; for further information visit ACCA's website.
–
Image: Linda Marrinon, The four cruelties 1982, installation view, Australian Centre for Contemporary Art, Melbourne 2019. Photograph: Andrew Curtis.
Destiny Deacon, a Buxton Contemporary Collection Artist, is one of Australia's boldest and most acclaimed contemporary artists. In the largest retrospective of her work to date, DESTINY marks the artist's first solo show in over 15 years. Featuring more than 100...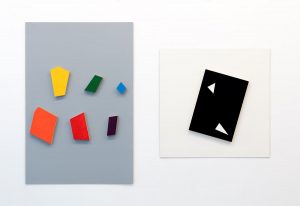 Buxton Contemporary Collection artist John Nixon will open a new exhibition GROUPS & PAIRS 2016-2020 at Anna Schwartz Gallery on the 21st of March running until the 24th of April 2020. More than 80 new works will be included in this upcoming exhibition, with...