Art Guide: 'This Brittle Light'
In a recent review of Buxton Contemporary's current exhibition This Brittle Light in Art Guide Giselle Au-Nhien Nguyen writes:
"I feel moved by What Goes Around, a video work by father and son Hossein and Nassiem Valamanesh, which animates a previously existing artwork, For Honey – a dedication to a lost family pet. A bundle of sticks and oil burners adorns an upside-down chair, which rotates slowly, hypnotically, zooming in and out. Beauty in the everyday, in the ordinary – it is easy to forget to look for it sometimes. There is power in making something with the person who made you."
_
Image: Hossein Valamanesh, For Honey 2020, Wooden chair, Persian salt bag, red-gum sticks & copper oil burners, 107 x 45 x 40 cm © the artist. Light Source Commission, Buxton Contemporary, The University of Melbourne, 2021, Photo by M. Kluvanek.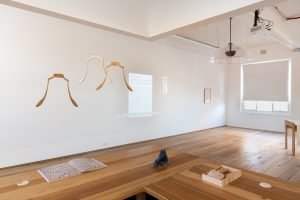 Westspace presents Fayen d'Evie's exhibition We get in touch with things at the point they break down // Even in the absence of spectators and audiences, dust circulates… Working as both artist and curator, d'Evie advocates for radical accessibility within...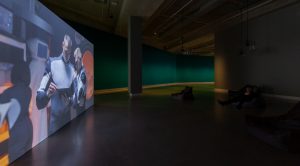 New Futures TM is the third in a series of short films by Laresa Kosloff with the use of commercial stock footage to explore the sociopolitical conditions of late capitalism. This new film tells the story of a biohacking company that can medically upgrade...