Angelica Mesiti at the 58th Venice Biennale, 8 May – 24 November 2019
Buxton Contemporary Collection artist Angelica Mesiti will be representing Australia this year in the 58th Venice Biennale. Her exhibition ASSEMBLY, curated by Juliana Engberg, will open at the Australian Pavilion on the 8th of May 2019.
ASSEMBLY is a multimedia and multi-layered visual work that uses metaphor, music, poetry and performance to suggest ways communities can come together. Mesiti used Italian stenographic "Michela" machine to re-code a poem To Be Written in Another Tongue by Australian writer, David Malouf. Translated into a musical score by Australian composer, Max Lyandvert, it is played by an ensemble of musicians while performers from different cultures respond to the sound piece.
ASSEMBLY runs from May 8–November 24, 2019.
_
Image: Angelica Mesiti, ASSEMBLY (production still), 2019. Three-channel video installation in architectural amphitheater. HD video projections, color, six-channel mono sound, 25 min, dimensions variable. Commissioned by the Australia Council for the Arts on the occasion of the 58th Venice Biennale.
Destiny Deacon, a Buxton Contemporary Collection Artist, is one of Australia's boldest and most acclaimed contemporary artists. In the largest retrospective of her work to date, DESTINY marks the artist's first solo show in over 15 years. Featuring more than 100...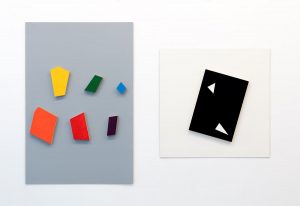 Buxton Contemporary Collection artist John Nixon will open a new exhibition GROUPS & PAIRS 2016-2020 at Anna Schwartz Gallery on the 21st of March running until the 24th of April 2020. More than 80 new works will be included in this upcoming exhibition, with...