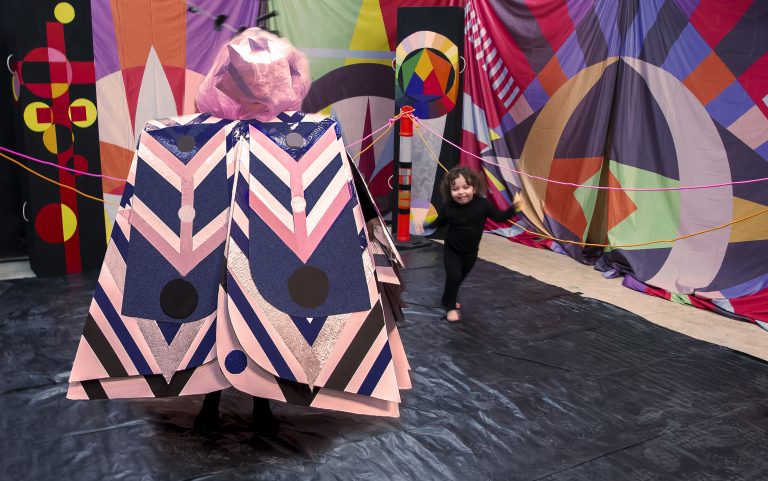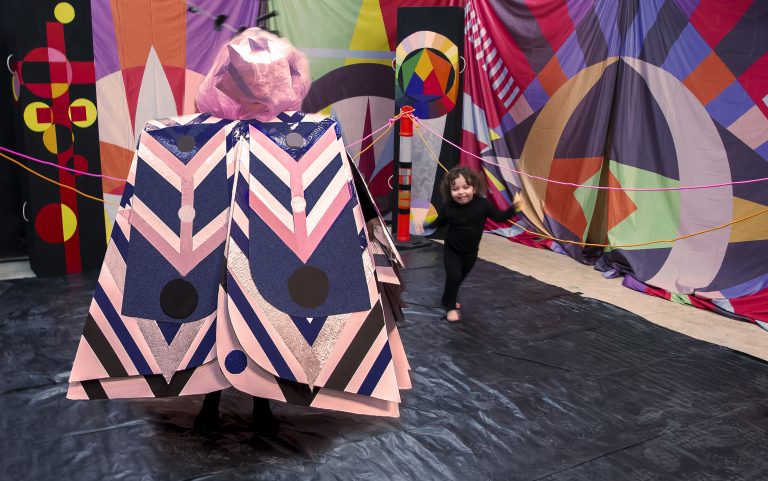 Mikala Dwyer and Justene Williams, Mondspiel (Moon play) 2019 (detail), mixed-media installation, Courtesy of the artist, Anna Schwartz Gallery, Melbourne; Roslyn Oxley9 Gallery, Sydney; Sarah Cottier Gallery, Sydney © the artists
Guest curated by Ann Stephen

In the year of its centenary the Bauhaus returns to haunt our museums. How do contemporary artists re-imagine a relationship to this legendary school? Are they scavengers raiding the ruins of modernism, appropriators of 'good design' kitsch or acolytes of an unholy sect?  Bauhaus Now! explores its legacy in Australia—both for contemporary artists and for art education—highlighting its visionary, collectivist ideals and its radical practices.
Mondspiel, the ground-floor installation by Mikala Dwyer and Justene Williams, is part resurrection and part zombie dance. The first-floor gallery displays rare Bauhaus archival material from the two former Bauhaus students exiled to Australia, Gertrude Herzger-Seligmann and Ludwig Hirschfeld-Mack.
Reconstructions by kinetic artists Michael Candy and Christopher Handran will demonstrate the celebrated Bauhaus experiments with colour and light, in Hirschfeld-Mack's Farbenlichtspiele, (Colour-Light Play) and Moholy-Nagy's Light Space Modulator.
The recent Bauhaus Weaving of Elizabeth Pulie and Rose Nolan's constructions are both made from the cast-off litter of domestic life. Other artists in this exhibition channel colour theory, like Peter D Cole's miniature multiples, Jacky Redgate's experiments with colour, light and photography, and Shane Haseman's performance Triadic Dance of the Secondaries. Students across art, design and architecture schools will collaborate in a parade and exhibit a series of abstract toys.
Artists:
Mikala Dwyer & Justene Williams
Gertrude Herzger-Seligmann
Ludwig Hirschfeld-Mack
Paul Klee
Michael Candy
Peter D Cole
Christopher Handran
Shane Haseman
Rose Nolan
Elizabeth Pulie
Jacky Redgate
The Lantern Parade filmed and edited by the Huxleys
'There was a kite festival, when we marched in procession through Weimar to the top of the hill, with hundreds of school children. There were lantern festivals when lanterns made in the workshops were carried through the streets at night. There were dances nearly every Saturday, when we wore fantastic masks and costumes prepared by the theatre group' – Ludwig Hirschefeld-Mack
A mid-winter lantern parade led by art students through the centre of Melbourne, has been described by Mikala Dwyer as 'our attempt at reanimating the memory ghost of the actual dynamic of education'. The lanterns were made during a week-long workshop that began each day with Johannes Itten's Mazdaznan exercises. It brought together students and artists from the Faculty of Fine Arts and Music, Victorian College of the Arts, University of Melbourne, RMIT University and the Queensland College of Art, Griffith University.
Lantern Parade participants:
Carolina Arsenii, Tim Bass, Honore Blaze Hudson, Htoo Paw Nay Blute, Natalie Cowan, Sarah crowEST, Meg Dawn, Tara Denny, Mikala Dwyer, Felicity Eustance, Fiz Eustance, Gina Gascoigne, Julian Goddard, Ceri Hann, Clint Ho, Natalie Houston, Victoria Jost, Anthea Kemp, Robin Kingston, Renee Kire, Claire Lambe, Nathan Larkin, Annelise Lindeberg, Jacqueline Matisse, Janno Mclaughlin, Elnaz Nourizadeh, Kate O'Boyle, Tricia Page, Lucy Parkinson, Robyn Phelan, Shanon Reidy, Mark Shorter, Elina Simbolon, E. Scarlett Snowden, Lauren Snowden, Ann Stephen, Fleur Summers, Kate Thomson, Siwat Visuthirungsiri, Justene Williams, Jude Worters
Download large-format wall HERE. 
IN THE MEDIA
Bauhaus Now celebrates the messy side of design's 100-year-old upstart, – Ray Edgar, The Age
{"slide_to_show":"1","slide_to_scroll":"1","autoplay":"true","autoplay_speed":"3000","fade":"false","speed":"300","arrows":"true","dots":"true","loop":"true","nav_slide_column":5,"rtl":"false"}
{"slide_to_show":"1","slide_to_scroll":"1","autoplay":"true","autoplay_speed":"3000","fade":"false","speed":"300","arrows":"true","dots":"true","loop":"true","nav_slide_column":5,"rtl":"false"}
{"slide_to_show":"1","slide_to_scroll":"1","autoplay":"true","autoplay_speed":"3000","fade":"false","speed":"300","arrows":"true","dots":"true","loop":"true","nav_slide_column":5,"rtl":"false"}
Exhibition Partners: