Ronnie van Hout included in, 'Exploded Textiles', Tamworth gallery, 28 September – 01 December 2019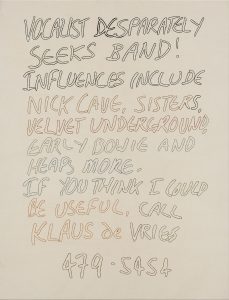 Works from Buxton Collection artist Ronnie van Hout will be exhibited as part of a partnership between the Art Gallery of New South Wales and the Tamworth Regional Gallery.
Exploded Textiles celebrates Tamworth Regional Gallery's centenary and also the town's reputation as the focus for its Textile Triennial which has been running since 1975. The exhibition at the Tamworth Regional Gallery until December 1 2019 features Australian and international works from the collections of both galleries.
For more information visit: https://www.tamworthregionalgallery.com.au/
Image: Ronnie Van Hout, Vocalist Seeks Band (1995-96), cotton embroidery on canvas, collection of the Art Gallery of New South Wales.
Exhibition Visit : nightshifts 26 May until 29 October 2023 A contemplative new group exhibition that considers the importance of solitude through contemporary arts practice. Free, self-directed visits, supported with an online resource and extend the student...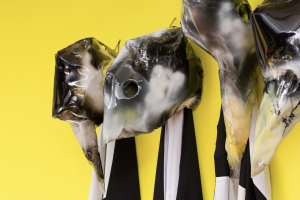 Tiarney Miekus recently interviewed Buxton Contemporary Collection artist Mikala Dwyer for Art Guide Australia. On the occasion of Dwyer's exhibition Bird at Roslyn Oxley9 in Sidney, Miekus writes: Vivid yet mysterious, Mikala Dwyer's installations connect a...