Brook Andrew, Honolulu Biennial, Hawaii, 8 March – 5 May 2019
Buxton Contemporary Collection artist Brook Andrew is participating in the 2019 Honolulu Biennial: To Make Wrong / Right / Now co-curated by Scott Lawrimore and Nina Tonga. His film The Pledge (2011), included in the exhibition program, is a satire of Charles Chauvel's 1955 melodrama Jedda, the first colour film made in Australia, and the first to feature indigenous actors. Retaining the film's imagery, Andrew rewrites the story within the subtitles, reflecting the violence of colonisation and genocide in a new science fiction narrative.
The Honolulu Biennial commences on 8 March 2019 and continues until 5 May 2019 across twelve different locations on O'ahu island, Hawaii.
See the Biennial website for more information: https://www.honolulubiennial.org/
Andrew will also present In Vision of Nuance: Systems of Exposure as part of Now Is the Time: Wuzhen International Contemporary Art Exhibition, curated by artist Feng Boyi in WuZhen, China from 31 March until 30 June 2019.
See the Art Wuzhen website for more information: www.artwuzhen.org
Andrew's work Emu (pictured) is included in our current exhibition National Anthem.
_
Image: Brook Andrew, Emu, 2004, animated neon on anodised aluminium, edition 4/5, 120 x 164.2 x 15.5 cm. The University of Melbourne Art Collection, Michael Buxton Collection, donated through the Australian Government's Cultural Gifts Program by Michael and Janet Buxton 2018.
Exhibition Visit : nightshifts 26 May until 29 October 2023 A contemplative new group exhibition that considers the importance of solitude through contemporary arts practice. Free, self-directed visits, supported with an online resource and extend the student...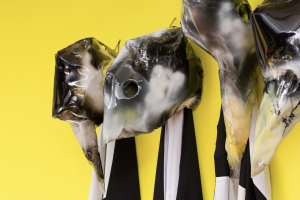 Tiarney Miekus recently interviewed Buxton Contemporary Collection artist Mikala Dwyer for Art Guide Australia. On the occasion of Dwyer's exhibition Bird at Roslyn Oxley9 in Sidney, Miekus writes: Vivid yet mysterious, Mikala Dwyer's installations connect a...