Soft Core, curated by Micheal Do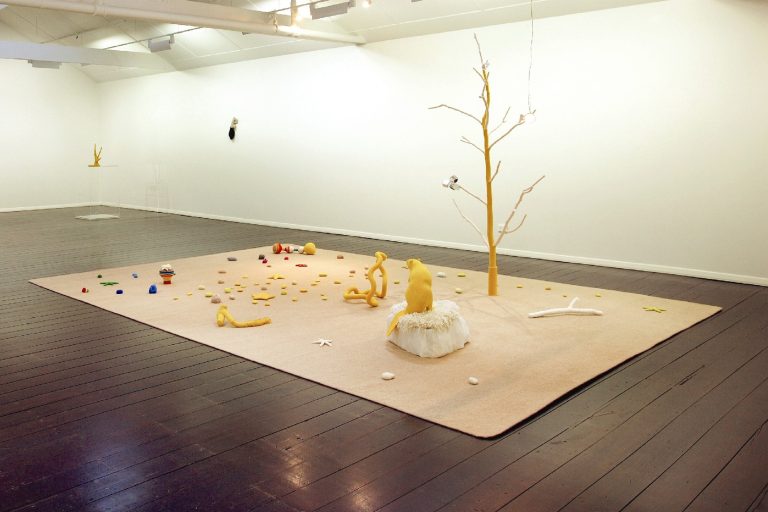 Curated by Michael Do, Soft Core is a touring exhibition that includes work by four Buxton Contemporary Collection artists – Mikala Dwyer, Patricia Piccinini, Louise Weaver and Paul Yore.
Soft Core presents artistic practices that explore the many facets of 'softness' – from large-scale inflatables to forms made from soft materials to materials that simply look soft. These artists are making works that demand attention – forms that are not simply bumped into while looking at paintings.
In the 20th century, artists began to disassemble the notion of traditional sculpture by adding and subtracting constructions, incorporating found objects and designating everyday items as art. These adaptive and divergent methods of form making continue today in a generation of artists who define sculpture in the negative condition: not bronze, not stone, not the macho force of the blast furnace.
The materials in this exhibition encompass air, inflatable nylon, unfired clay and plastics bags – materials that have been co-opted for their versatility and their mutability between function and emotion. Some of the works in this exhibition require activation – such as electricity or inflation to become whole while others inhabit their softness quietly.
Soft Core investigates these practices by presenting existing works and newly commissioned works by a diversity of artists who question the fluctuating meaning of what it means to be soft.
Since its first presentation at Casula Powerhouse in 2016, Soft Core has toured to a number of regional galleries in New South Wales and Victoria.
Currently at: Wagga Wagga Art Gallery (NSW) 11/08/2018 – 28/10/2018
Toowoomba Regional Art Gallery (QLD) 10/11/2018 – 27/01/2019
Caboolture Regional Art Gallery (QLD) 15/02/2019 – 20/04/2019
Kick Arts Contemporary Arts (QLD) 03/05/2019 – 23/06/2019
Perc Tucker Regional Gallery (QLD) 06/09/2019 – 03/11/2019
Exhibition curated by Micheal Do in conjunction with Casula Powerhouse Arts Centre, and toured by Museums & Galleries of NSW.
–
Image: Louise Weaver, no small wonder, 2005. Hand crocheted lambswool and embroidered cotton thread over high density foam, walnut tree, Japanese rice wine vessels (gourds), ceramic, chromed abs plastic, ('Tangle' designed by Richard X. Zawitz 1981), lurex thread, cotton thread, Japanese silk, felt, Swarovski crystals, mirrored perspex, steel, plastic, fibreglass, granite, starfish. 'Fruit Light', designed by Geoffrey Mance. Nylon carpet, light, sound, 230 x 500 x 366 cm. Image courtesy the artist and Darren Knight Gallery, Sydney.
Exhibition Visit : nightshifts 26 May until 29 October 2023 A contemplative new group exhibition that considers the importance of solitude through contemporary arts practice. Free, self-directed visits, supported with an online resource and extend the student...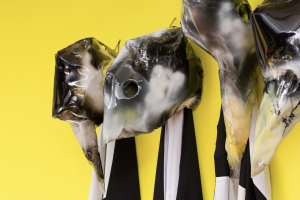 Tiarney Miekus recently interviewed Buxton Contemporary Collection artist Mikala Dwyer for Art Guide Australia. On the occasion of Dwyer's exhibition Bird at Roslyn Oxley9 in Sidney, Miekus writes: Vivid yet mysterious, Mikala Dwyer's installations connect a...