Rose Nolan, A Singular Impulse, finishing 29 September, Anna Schwartz Gallery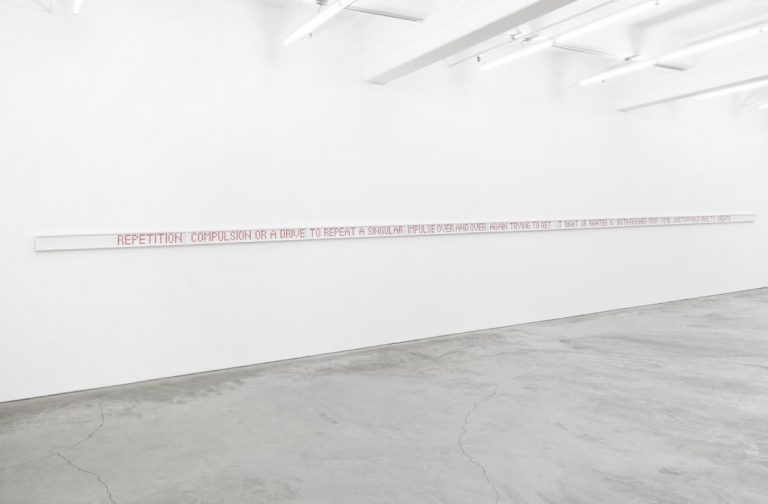 There are just two weeks left to see Buxton Contemporary Collection artist Rose Nolan's exhibition A Singular Impulse at Anna Schwartz Gallery.
A Singular Impulse is a suite of new text works built from the simple repetition of a single geometric form and gesture. Reminiscent of cross-stitch embroidery samplers or electronic ticker-tape signage captured mid-stream, they highlight the space of sustained focus and labour and the measured progress of time.'
Visit the Anna Schwartz Gallery website for more information.
Image:
Big Words (Not Mine) – Repetition compulsion or a drive to repeat a singular impulse over and over again to get it right or righter is distinguished from some unstoppable urge to create, 2018
Multi-purpose identification labels, PVA, acrylic paint, pencil, cardboard
15.3 x 1396.6 cm overall (framed)
'A Singular Impulse', 2018
Installation view Anna Schwartz Gallery.
Photography: Zan Wimberley
Exhibition Visit : nightshifts 26 May until 29 October 2023 A contemplative new group exhibition that considers the importance of solitude through contemporary arts practice. Free, self-directed visits, supported with an online resource and extend the student...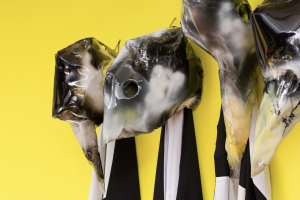 Tiarney Miekus recently interviewed Buxton Contemporary Collection artist Mikala Dwyer for Art Guide Australia. On the occasion of Dwyer's exhibition Bird at Roslyn Oxley9 in Sidney, Miekus writes: Vivid yet mysterious, Mikala Dwyer's installations connect a...