Sheridan Palmer, 'Disequilibrium: Presence/absence in the art of Tony Woods'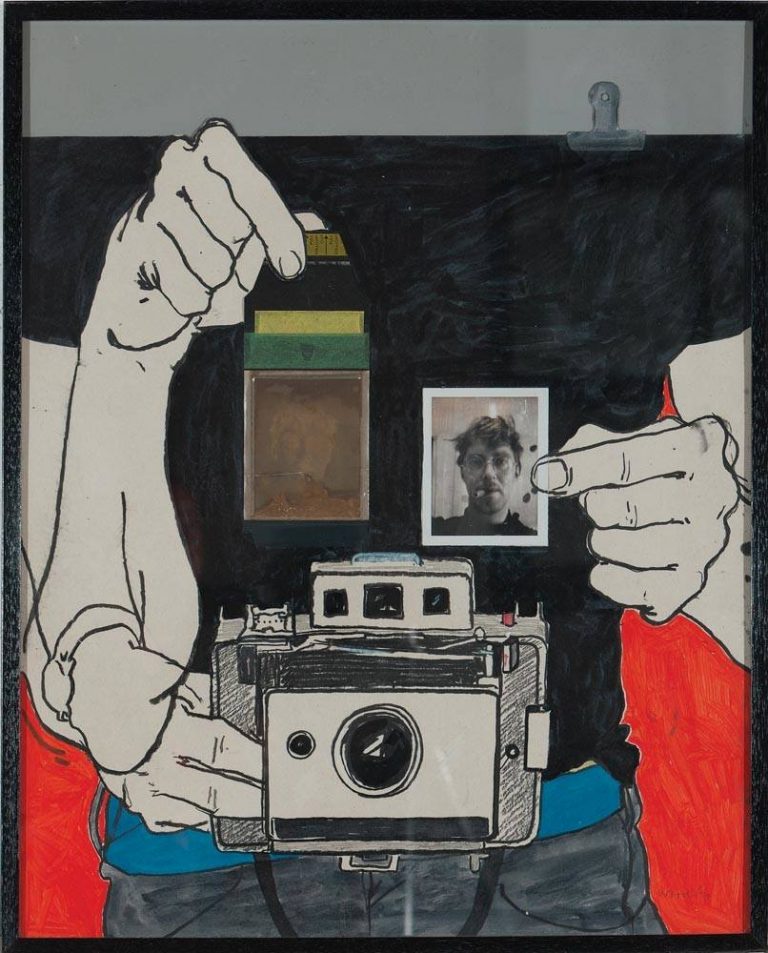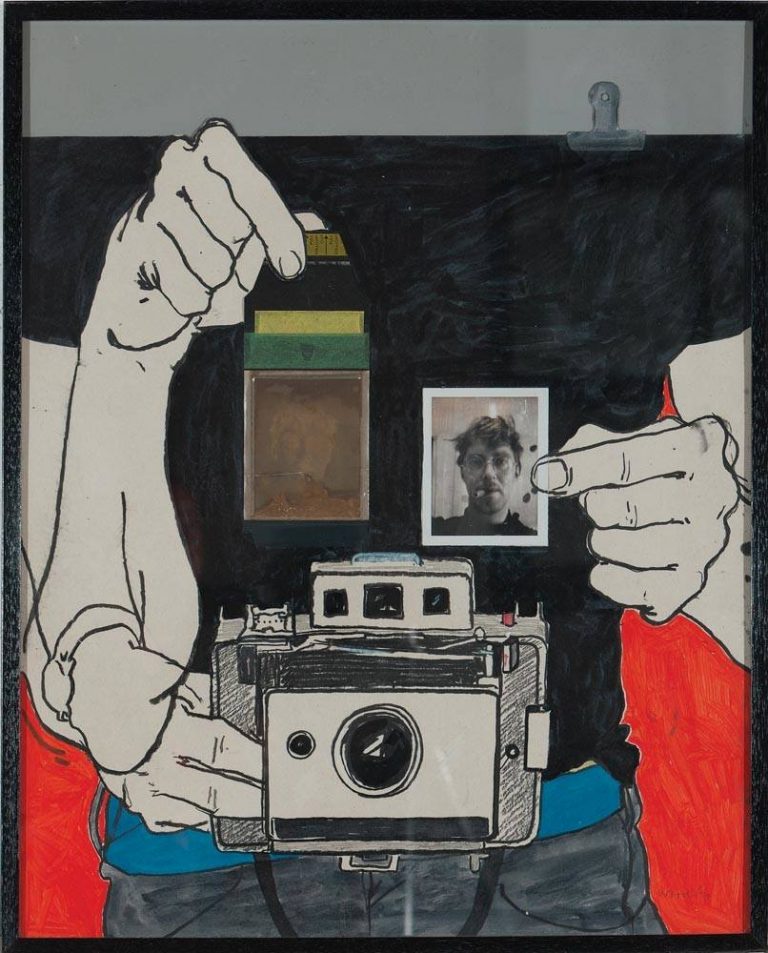 Tony Woods, Positive negative', 1970
As part  of the ongoing lecture series, Histories and Theories of Sound, Buxton Contemporary, with Discipline and Liquid Architecture present Dr Sheridan Palmer's 'Disequilibrium: Presence/absence in the art of Tony Woods', followed by discussion with Doug Hall AM.
During the 1960s the Tasmanian artist Tony Woods (1940 – 2017) emerged as a rare talent in the Australian art scene, An advocate of modernism's pluralism, his bold figuration, vigorous abstract formalism, irregular shaped canvases that often incorporated collage and the ready-made, was a synthesis of American mid twentieth century avant-garde, Pop and counter-cultural mysticism edged with existential angst. This diversity was not so much a contradiction but a fluid enquiry into ideas that informed his analysis of visual representation.
When Woods began exhibiting on the Australian mainland he acquired an impressive collector base that included the American millionaire Harold Merz, the modernist architect Robin Boyd, Bernard Smith, Lord Talbot of Malahide, with Joseph Burke and Albert Tucker as avid admirers. These connections partly explain Wood's award of Harkness Fellowship to New York in 1967 (the last given to an Australian artist) and a gurantee of a Power Institute Cité des Arts International studio in Paris; he also hosted the American art critic Clement Greenberg on his Hobart visit in 1968. To all appearances, Wood's reputation and success were sealed.
In the final months of his Manhattan residency, however, fire gutted his studio and he lost everything; his American dream a palpable absence that left him in a state of disequilibrium. Returning to Australia Woods slowly recovered and went about re-establishing his career and, while his artistic production expanded into a rich body of paintings, drawings, prints, video and sound works, he lacked validation from the art system and gradually retreated into seclusion. In this lecture Dr Sheridan Palmer will consider problems of inclusion and exclusion and why a talented artist like Tony Woods became peripheral. Paradoxically, this 'negative freedom' enabled him to explore alternative mediums and concepts of 'error' and a positive projection and absence as a productive presence. As an artist Tony Woods was 'a laboratory of approaches that lies outside of –  or in vital opposition to – quotidian and bourgeois structures of value and meaning', in which his visual aperture revealed the undisclosed rather than the obvious in both real and abstract terms. Despite the art critic Patrick McCaughey once rating Woods as 'perpetually promising', a new generation of young artists from the late 1990s onwards recognised his artistic integrity, his invigorating cultural knowledge and the value of Wood's empirical enquiries that complemented postmodernity's instability.
Dr Sheridan Palmer
Sheridan Palmer is an art historian, curator and biographer, who has published extensively in art and literary journals. She has degrees from the Victorian College of Arts, La Trobe University and a PhD from the University of Melbourne where she is an Honorary Fellow. Sheridan has worked in painting conservation, as an independent art dealer and has curated The Goddess Grins: Albert Tucker and the Femal Image at Heide Museum of Modern Art in 2007 and the Lake Hindmarsh Project, 2010, for which she received an Arts Victoria Creation Grant. She was awarded the National Gallery of Victoria Trustees Prize for sculpture (1973) and Joseph Brown Prize for drawing (1976) and as an art historian has been awarded numerous grants, including a Paul Mellon Centre for Studies in British Art research grant in 2012, a Harold White Fellowship at National Library of Australia in 2010, a Sidney Myer Arts Grant, 2009 and a Manning Clark CAL Residential Fellowship in 2009. She was shortlisted for the Hazel Rowley Literary Fellowship in 2013 and the Australian Book Review Raft Fellowship in 2016.
Her books include Dean Bowen: Argy Bargy; Centre of the Periphery: Three European Art Historians in Melbourne, which is a major study of the establishment of art history in Australia, and Hegel's Owl: The life of Bernard Smith, among others. She is currently researching post-war Australian modernism.
Doug Hall AM
Doug Hall graduated from the Victorian College of the Arts and was director of two regional galleries before moving the Brisbane in 1987 where until 2007 he was director of the Queensland Art Gallery. Under his directorship the Queensland Art Gallery expanded its international focus and developed a strong engagement with Asia, especially through his initiative, the Asia-Pacific Triennial of Contemporary Art. He conceived the idea for the Gallery of Modern Art and oversaw its development. He was Commissioner at the 53rd and 54th Venice Biennale from 2009 to 2011, and was appointed Associate Professor and Honorary Fellow in the School of Culture and Communications, Faculty of Arts at the University of Melbourne.
Doug initiated, negotiated and curated many major exhibitions from within Australia and internationally and continues with academic and advisory roles in Australia and abroad. He has worked for cultural organisations including the Visual Arts Board of the Australia Council, as a member of the Australia International Cultural Council (Department of Foreign Affairs); and as a member of the Asia Art Council, Guggenheim Museum (New York), Executive Committee of the Australia- Thailand Institute, Australian Japan Foundation, Sherman Contemporary Art Foundation, Gertrude Contemporary and Chairman of the Michael Buxton Collection.
He is widely published in newspapers, magazines and journals and wrote art criticism for the Australian Financial Review. His forthcoming book will be published in 2019. Hall was awarded the University of Queensland's Doctor of philosophy honoris causa for his contribution to the visual arts in Queensland and in 2001 he was awarded a member of the Order of Australia. In 2006 he was made a Chevalier dans l'Ordre des Arts et Lettres by the Republic of France.
This event is co-presented by Discipline and Liquid Architecture as part of the ongoing public lecture series 'Histories and Theories of Sound'. Discipline is a publisher and contemporary art journal edited by Helen Hughes and David Homewood. Alongside artist pages and interviews, it publishes research essays about contemporary Australian art, and histories and theories of contemporary art as a global industry or phenomenon. Liquid Architecture is an Australian organisation for artists working with sound. LA investigates the sounds themselves, but also the ideas communicated about, and the meaning of, sound and listening.
This is a free event, open to everyone. Seats are limited, please register your interest here.