Observance — Artist Floor Talks
Saturday 7 May 11.15–12.45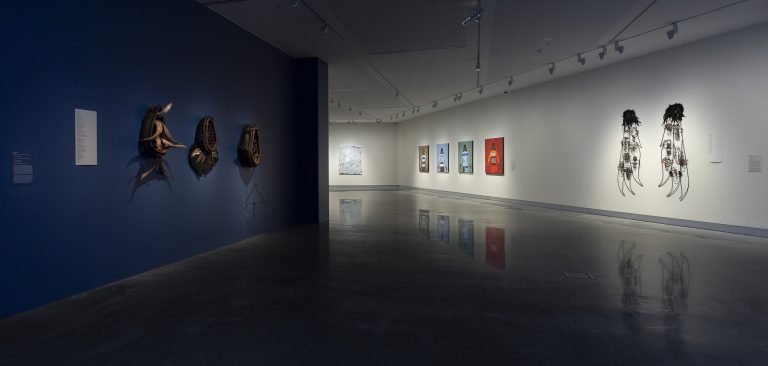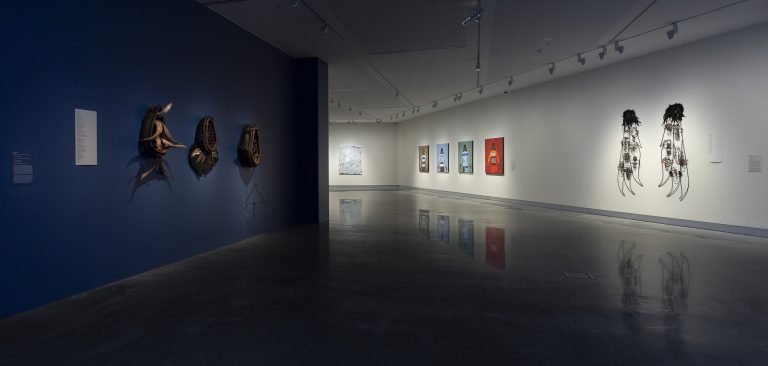 Installation view, Observance, Buxton Contemporary. Photograph: Christian Capurro
Join us at Buxton Contemporary for the artist floor talks during the closing weekend of our current exhibitions Turbulent Water and Observance. We will be meeting in the upstairs galleries to hear from Observance exhibition artists Lisa Hilli, Julie Gough and Angela Tiatia about their practice and works in the exhibition.
Book online HERE.
Registration is free but places are limited. Guests are welcome to come and go throughout.
Speakers
11:15 Lisa Hilli
Born in Rabaul, Papua New Guinea (PNG), and living in Narrm/Melbourne, Australia, Lisa Hilli is a contemporary artist with lineages from PNG (Tolai/Gunantuna), Finland, England, and South Africa. Her work highlights the in/visibility of Black and Melanesian women's bodies through themes of landscape, history, and archival research, which she explores through photography, video, textiles, and installation. Her major works have culminated in touring exhibitions, including Trade & Transformations (2018), Social Conditioner (2015–2016), Vunatarai Armour & Midi (2015–2016), and Just Like Home (2010–2013), while others have been featured at galleries and events in Australia, Belgium, and the Netherlands. Hilli cofounded the Pacific Women's Weaving Circle and the Contemporary Pacific Arts Festival (Footscray Community Arts Centre, 2013–2015).
11:45 Julie Gough
Julie Gough is an artist, writer and curator whose practice re-presents conflicting and hidden histories, many referring to her family's experiences as Tasmanian Aboriginal people. Gough is a Trawlwoolway woman whose Briggs-Johnson family have lived in the Latrobe region of north west Tasmania since the 1840s. Tebrikunna, their Traditional Country, is in far north eastern Lutruwita (Tasmania). Working predominantly with film, installation and archives, Gough revisits the past by visiting places where particular events occurred. Her works uncover unresolved stories and conflate past and present through reconfigured narratives of memory, time, location and representation.
12:15 Angela Tiatia
Angela Tiatia's artistic practice explores contemporary culture, drawing attention to its relationship to representation, gender, neo-colonialism and the commodification of the body and place, often through the lenses of history and popular culture. Tiatia's work confronts ideas ranging from the intimate to the universal, often informed from her perspective and experiences as a Samoan woman.  Her work is held in numerous public collections including: the Art Gallery of New South Wales, Sydney; The Museum of Contemporary Art (MCA), Sydney; National Gallery of Victoria (NGV), Melbourne; Queensland Art Gallery | Gallery of Modern Art (QAG GOMA), Brisbane; Museum of New Zealand Te Papa Tongarewa, Wellington; Australian War Memorial Museum, Canberra; the Australian Museum, Sydney; the Christchurch Art Gallery Te Puna o Waiwhetū, Christchurch.