Nicholas Mangan, Limits to Growth – Part 3 (Letter to Rai) 2020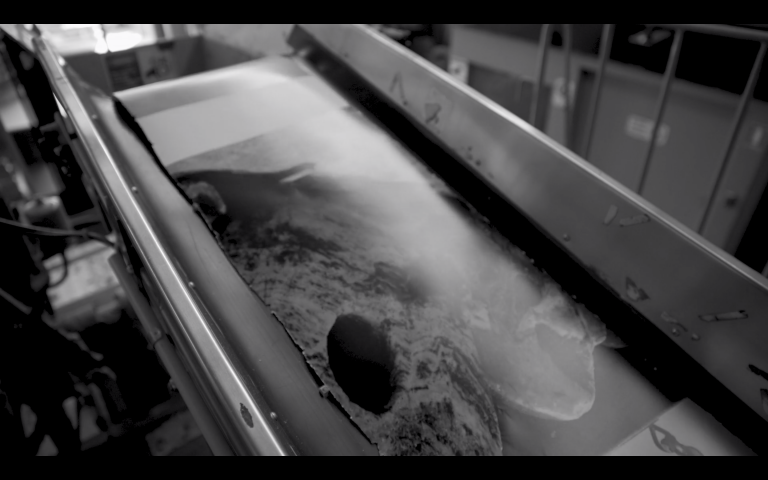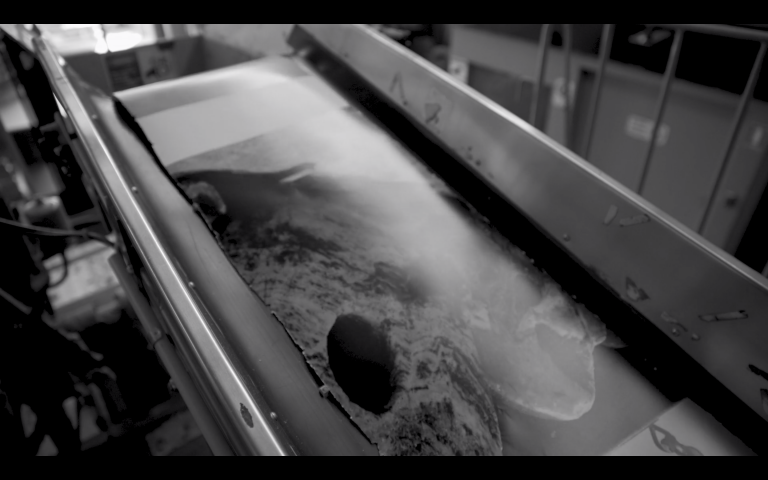 Nicholas Mangan, Limits to Growth - Part 3 (Letter to Rai) 2020 (still), HD sound black and white with colour, Duration 18:43, © the artist, Light Source commission, Buxton Contemporary, The University of Melbourne, 2020
Referencing a diverse array of phenomena, from bitcoin cryptocurrency mining and biodiversity credits to Micronesian Rai stone currency, multidisciplinary artist Nicholas Mangan's new film expands upon and 'unmakes' his critically celebrated and ongoing project Limits to Growth, initiated in 2016.
Taking the form of a narrated documentary, this new component of Mangan's continuing project traces the exchange and transformation of value, energy and investment in objects and currencies through processes of destruction, disassembly, reproduction and reformation.
Partially shot at an industrial facility in Melbourne that crushes and shreds credit cards and old EFTPOS and ATM terminals, the film shows the destruction of bitcoin mining machines deployed by the artist at an earlier stage of his project and the shredding of 149 copies of a single photograph, printed as an indication of the value of the mined bitcoin. In processes described by the artist as being akin to those of a 'mint press in reverse', the machines are then further transformed at a foundry into raw aluminum ingots and the photographic prints of Rai stones are reconstituted by hand into a papier-mâché sculpture resembling this ancient coin.
Assembled and composed as layered sequences throughout Limits to Growth, each material or immaterial transformation – by natural or human act – reveals how we extract value and create debt, waste or environmental impacts from our investment of labour, material, faith and trust.
Known for unpacking the complex histories of contested sites, value exchange, transformation and the unstable relations between economics, nature and culture, Mangan's practice addresses some of the most galvanising issues of our time: humanity's fraught relationship with the natural environment, the continuing impacts of colonialism and the complex and evolving dynamics of the global political economy.
In many ways, this third iteration of Mangan's Limits to Growth project functions like the visionary artist Joseph Beuys's investigation What is Money: A Discussion, a meeting held in 1984 with various participants including a former banker, a political economist and other financial scientists. In this work Mangan expands the discussion to reflect aspects of the 21st century, including the ever-accelerating transformations of technology, the digital economy and the unfolding uncertainties of modern monetary theory, which foresees possibilities for endless unconstrained growth.
Nicholas Mangan
Limits to Growth – Part 3  (Letter to Rai) 2020
HD, sound, black and white with colour, duration 18:43
© the artist
Light Source commission, Buxton Contemporary, The University of Melbourne, 2020
Nicholas Mangan is represented by Sutton Gallery, Melbourne.