A digital program of conversations with artists represented in the Buxton Contemporary Collection and beyond. Global in reach, the series celebrates diversity in contemporary culture and profiles distinctive practices.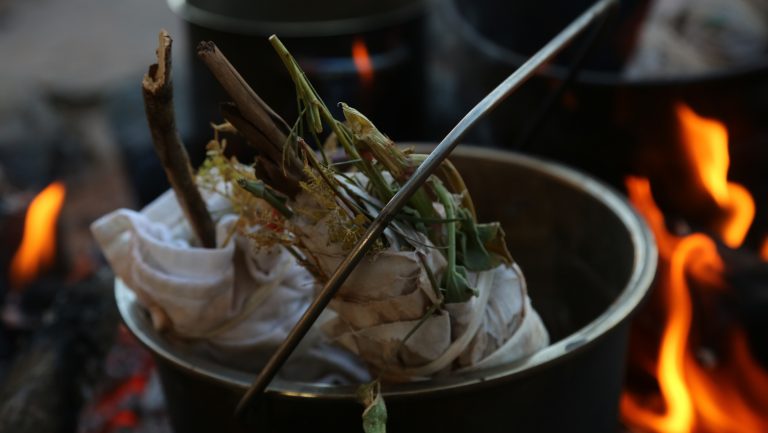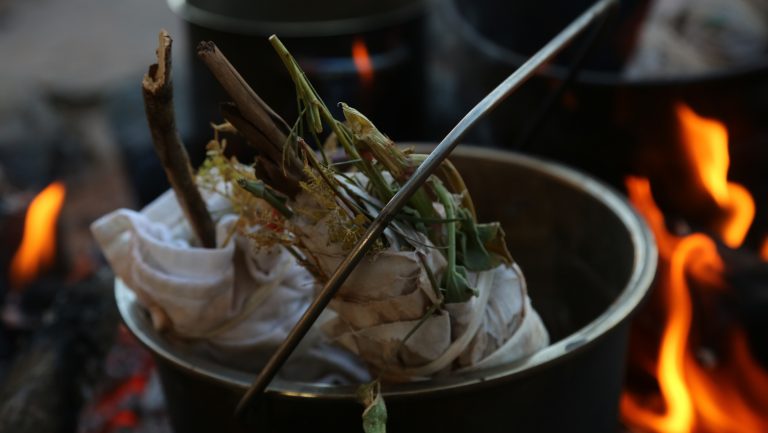 KATIE WEST
in conversation with Melissa Keys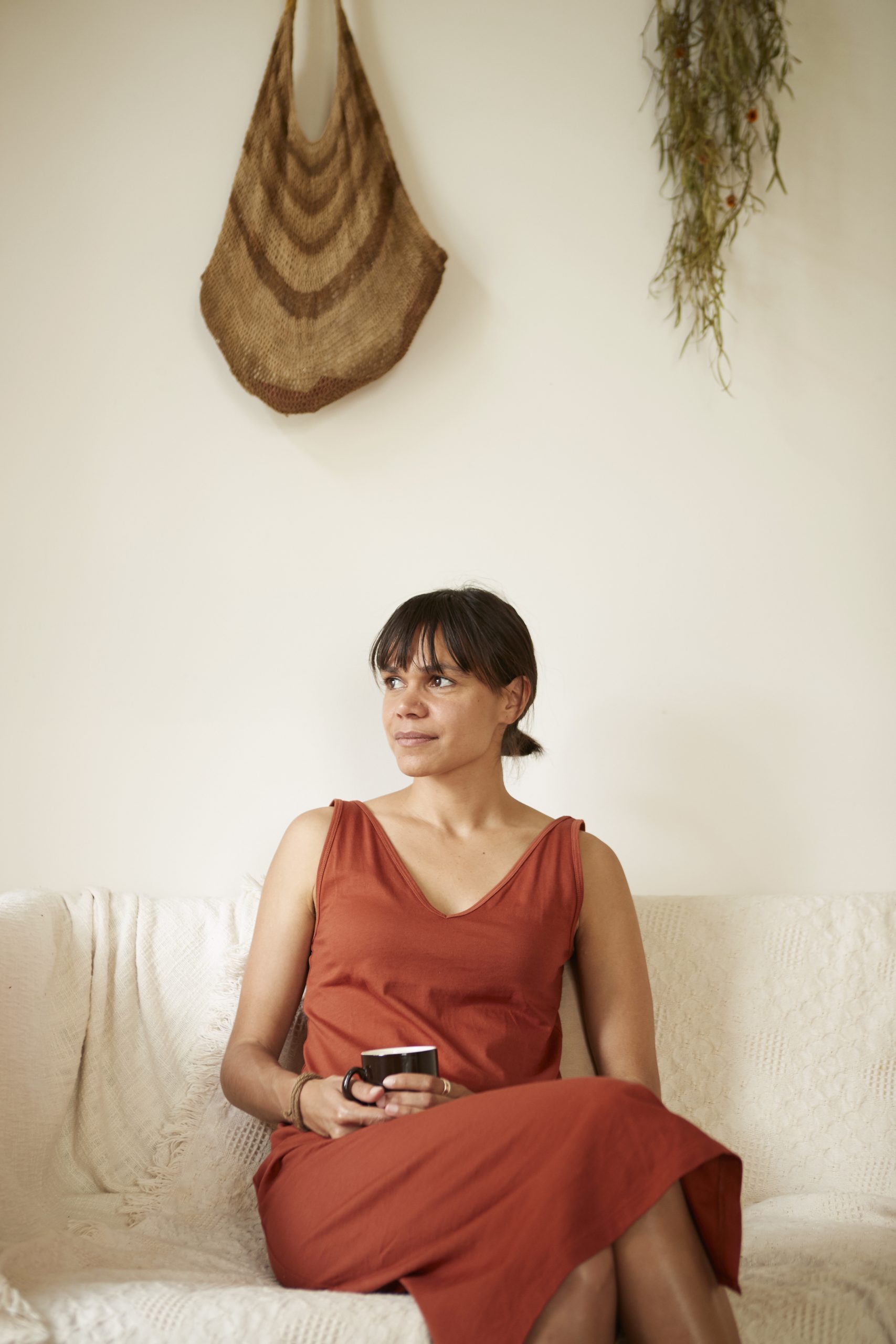 Name:  Katie West
Date of birth: 30 March 1988
Place of birth: Yindjibarndi, born in Boorloo/Perth, Australia
Occupation: Artist

MK: Richly evocative and elegantly economical, your art traverses questions of Indigenous and Western worldviews and relations to earth. Who are some of the thinkers, artists and cultural leaders who influence you?
KW: For me, the work of Chilean artist, poet and activist Cecilia Vicuña comes to mind constantly. I believe that her work does so much to dismantle the notion that anything non-human is lifeless. There are no hierarchies or distinctions between the materials that she uses or the activities and processes she enacts, and I think this is because there is no distinction between what she says and what she does. Her spirit is so present in everything she creates because she recognises the spirit of others. For me, Vicuña is an artist/elder. I feel like I see the body of work she started creating in the 1960s titled precarios (precarious) – which consists of a series of intimately scaled sculptural forms crafted from found and discarded materials – everywhere.
I also admire Regina Pilawuk Wilson and Kathleen Korda, artists from Peppimenarti, west of Darwin, in the Northern Territory. I met Regina and Kathleen while they were visiting Castlemaine, Victoria, to run a workshop on how to make string from palm leaf and how to dye the fibre. This was the first time I had ever been shown how to make string by rubbing the fibre on your leg in a back-and-forth motion. The process requires a gentle touch and nuanced knowledge in your fingertips, and once expertly mastered, it is a quick and efficient method. Regina and Kathleen are highly skilled and are generous with their knowledge, which is deeply entwined with family and country. Knowing their history and how Peppimenarti came to be as a community, I deeply admire and look up to them as artists and elders.
As part of an artist residency, I recently spent a couple of weeks staying in the old police quarters at Cossack, an abandoned pearling town in the Pilbara region in Western Australia. While there, I re-read Tyson Yunkaporta's Sand Talk, and every evening I walked along the little beach and watched the tides change and the sea turtles come up for air. I watched the sun go down and sat to just think, without a phone or notebook taking up the focus. The yarns in Sand Talk supported me to reflect through observing my surroundings and how my mind was working.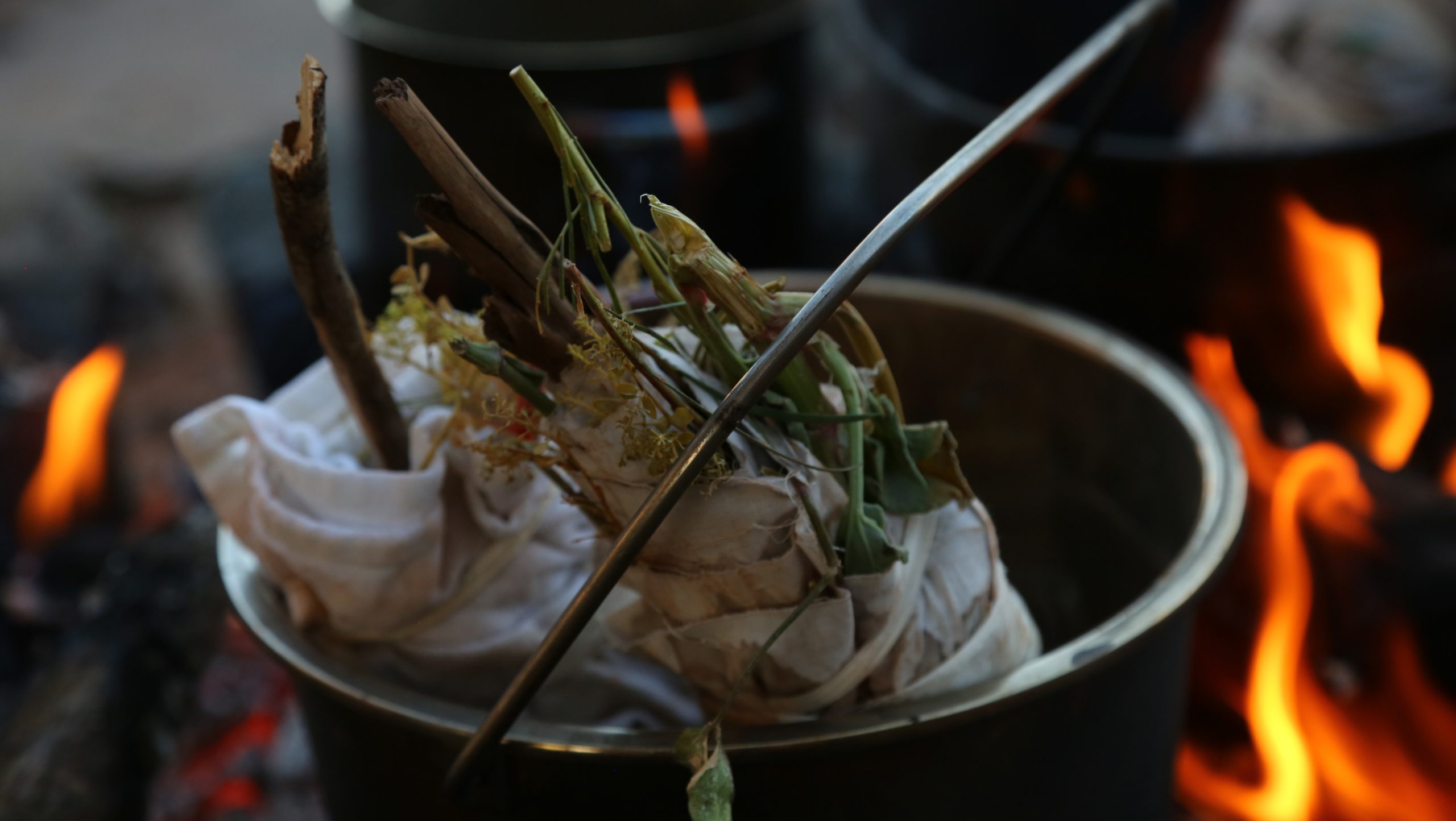 MK: Much of your multisensory work is created through the embodied, durational and observational actions of walking the land, collecting and making including dyeing, assemblage and installation. Can you speak a little about your creative process and your use of materials?
KW: I am interested in how our bodies feel in response to others and our environment: noticing and observing how words, symbols, sounds and actions unfold, or how our own physical actions influence our bodily states.
After a few years of returning to study, and then learning how to meet the expectations of others as more opportunities to show my work came along, I'm now giving more attention again to how life flows. I feel that I have perhaps gone from thinking about how to infuse material with place to feeling that the materials I use are always grounded in place. I also think about my own work and that of other artists as the way we infuse each other with ideas and invite one another into our varied outlooks on the world.
My processes of natural dyeing come from thinking about connection to place and finding meditative experiences in walking, collecting material and waiting for a dye bundle to transform as it boils on a fire or on a hotplate in assorted temporary studio spaces. Walking and collecting material invites you to focus on the environment you are inextricably immersed in and to consider how you share this space with others and the ways that a particular place may have changed over time.
Through performative works like those I undertake with my collaborator Fayen d'Evie as part of our project Museum Incognita, I find we learn about the experience of others through engaging with material and the physical demands of producing and processing primary materials. On a very hot summer day in Dookie, in central Victoria, we learnt just how much water is needed to rinse and clean a fleece of wool, and the muscles required to carry wet wool and to lay it out in the sun. We would not have gained this understanding through passively reading about it while our bodies were curled up on a couch or while sitting at a desk focused on our laptop screens.
I am very interested in embodied knowledge, the memory of the physical experiences of our ancestors that we still carry – not only First Peoples, but all of us. As human beings we have particular senses, and we can trust our bodies to gather the knowledge we need.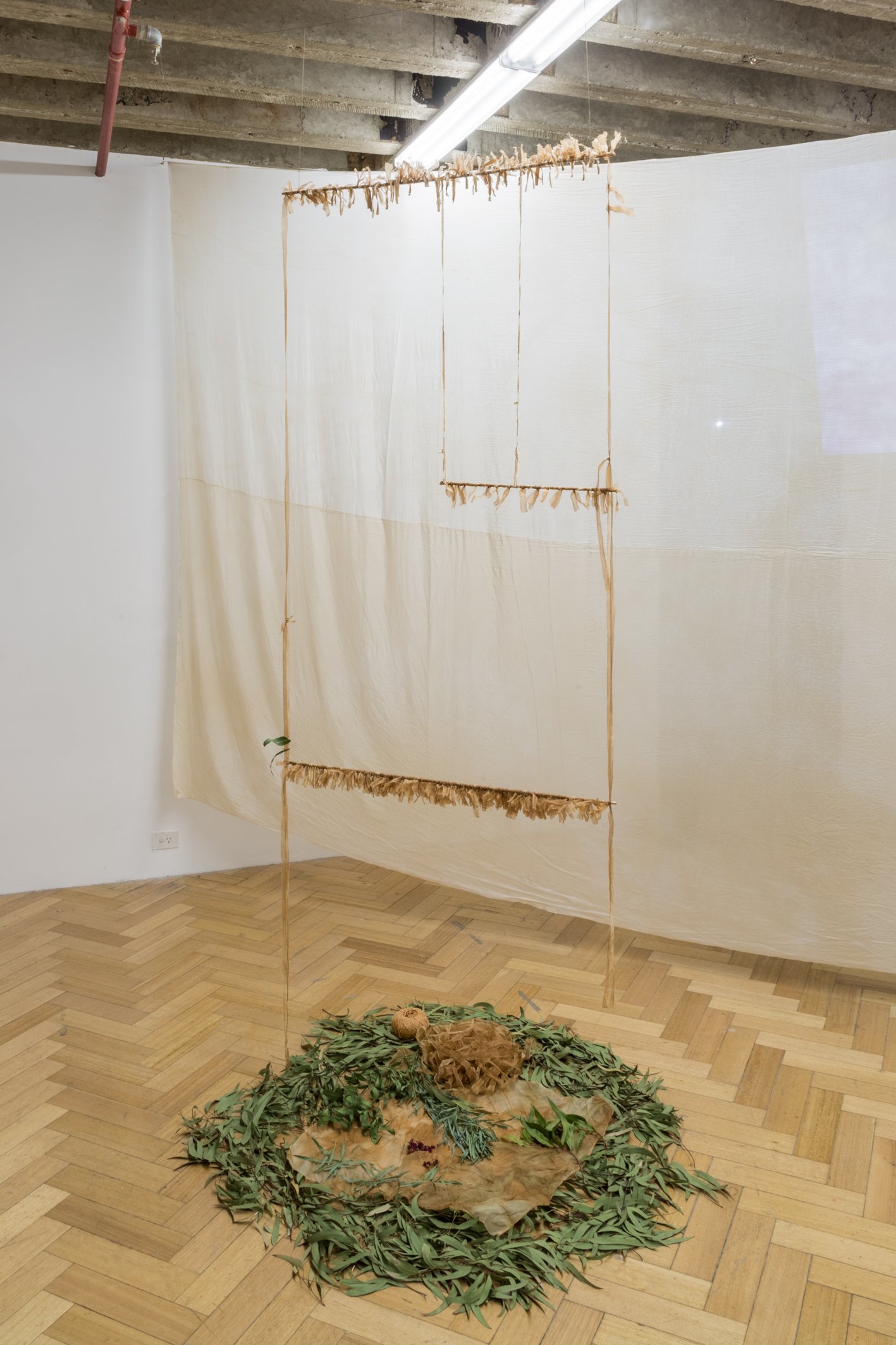 MK: Your Next Wave Festival 2016 exhibition, Decolonist, and your recent installation at TarraWarra Museum of Art, Clearing, are propositions for the role of art and the site of the museum as an environment for critical cultural change and transformation, with artist and writer Fayen d'Evie describing your mode of practice as one of 'co-becoming'. What conceptual and social roles do you see the museum performing in your practice?
KW: I have to begin by highlighting that galleries and museums are places that I did not feel I was welcome in as a young person. This was the case even when works by Indigenous people were being shown, because I didn't understand my connections; at times, I still experience anxiety resulting from internalised racism, though this seems to have lessened as I've aged, thankfully. I have also experienced frustration about the notion of a blank space void of context and how that can so easily be used to ignore our responsibilities beyond the gallery space.
Now I feel that these spaces are valuable because they allow us to experience an object or a happening within negative space, the same way we suspend our disbelief when we watch a play; which I think is a useful cognitive exercise for telling and receiving story. The knowledge we collectively bring to these spaces is always part of the experience. This change in perception has come through understanding my power as an artist to occupy these gallery environments.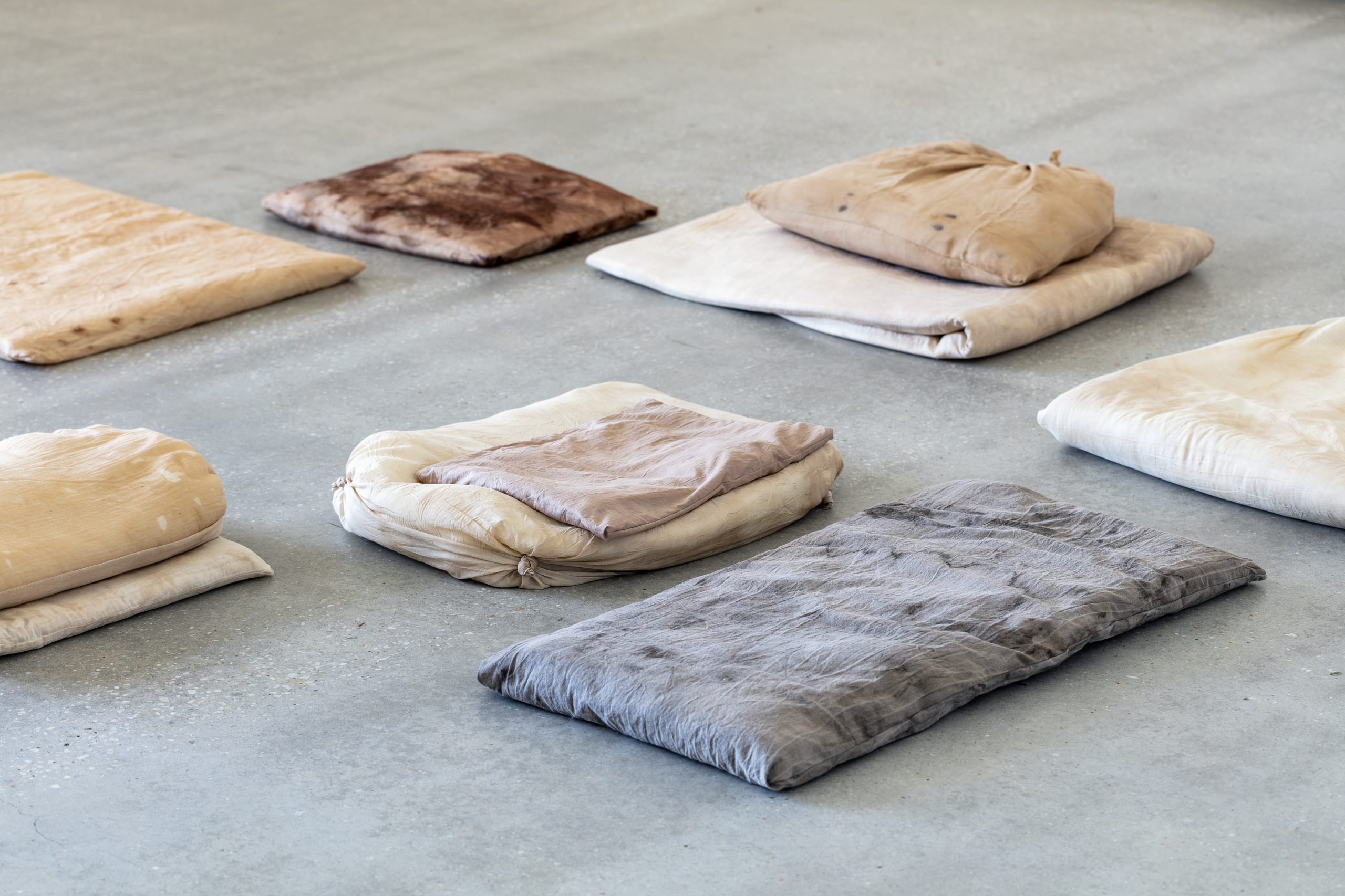 MK: That's a really engaging perspective. How do you think about your relationship with audiences and their interactions with your work? Do you see audience members as participants or collaborators, perhaps?
KW: I do see audience members as participants and potential collaborators, and deliberately invite engagement within some of my installation works. For instance, the installation Gently give attention invites participants to formulate a blend of tea for themselves and to reset a table of offerings for the next person who comes along. At TarraWarra Museum of Art, my work titled Clearing was designed for people to sit and occupy the space comfortably. It was an environment for reading, listening and taking in the view through the large gallery windows that look out across the Yarra Valley. With both of these artworks, the way people have interacted with the space and with each other has set the work in motion, and that is a great source of pleasure for me. When Gently give attention was presented at Bundoora Homestead, guests stood with cups of tea in hand, happy to linger in the moment. They stayed longer than one might usually spend in an exhibition, or at least when you're not offered a complimentary drink, I guess. Clearing at TarraWarra comprised cushions placed around the space, which resulted in more activity and interaction than I expected. At quieter times some people used the space to meditate, and at other moments small children had a lot of fun building towers out of the cushions.
Creating safe, generous and contemplative environments is my intention, but I need the impetus of visitors to activate the work. So, yes, in regard to certain works I do see visitors as collaborators, particularly when they contribute something unexpected that I did not anticipate.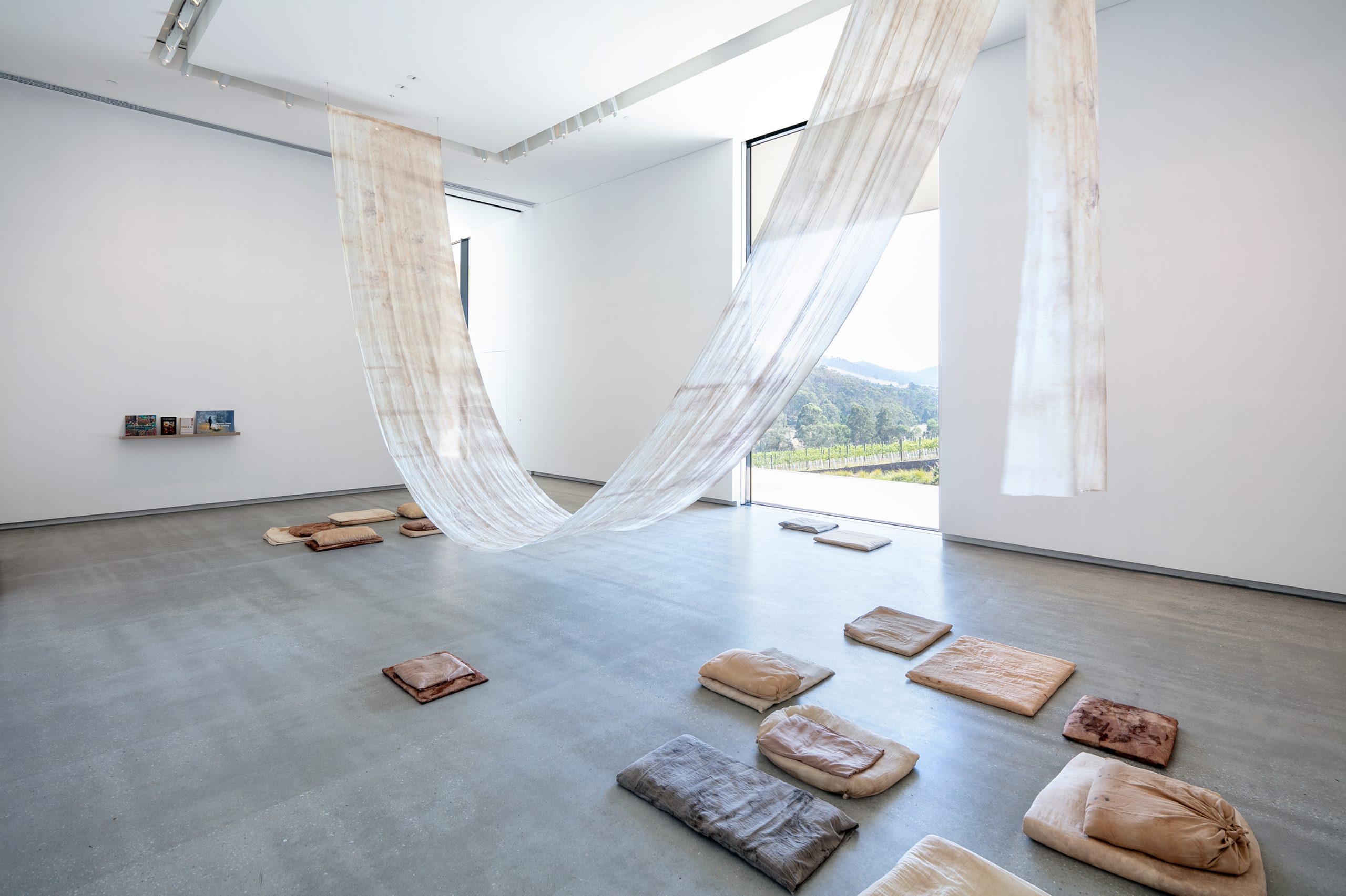 MK: What are you currently working on, or towards, and what is next for you?
KW: I am currently producing installation and film-based works that are influenced by the time I spent in Cossack in WA. Found objects are also becoming increasingly important in my practice, as is contemplating the way human beings have experienced environmental and social change, particularly in the Pilbara region. While I was there, I visited Murujuga, which is an extremely old place with countless ancient petroglyphs. These record the animals that have populated that place over millennia, including megafauna emus and kangaroos, as well as animals that you'll still encounter, such as sea turtles. I'm thinking a lot about this place as I work.
Weaving and string-making are also things I'm spending a lot more time with: practising different string or rope-making techniques and learning more about which plants and which components of plants to use, and where and when to collect and process materials.
My interest in embodied knowledge is also leading me to think about singing. I'm interested in how we seem to be able to hold memories – both of songs and through song – even as our minds age, and, of course, how songs so successfully ensure knowledge is shared across generations.
At the moment I feel really fortunate to have the practical, intellectual and emotional support and resources to go deeper into ways of being, making and doing that feel right.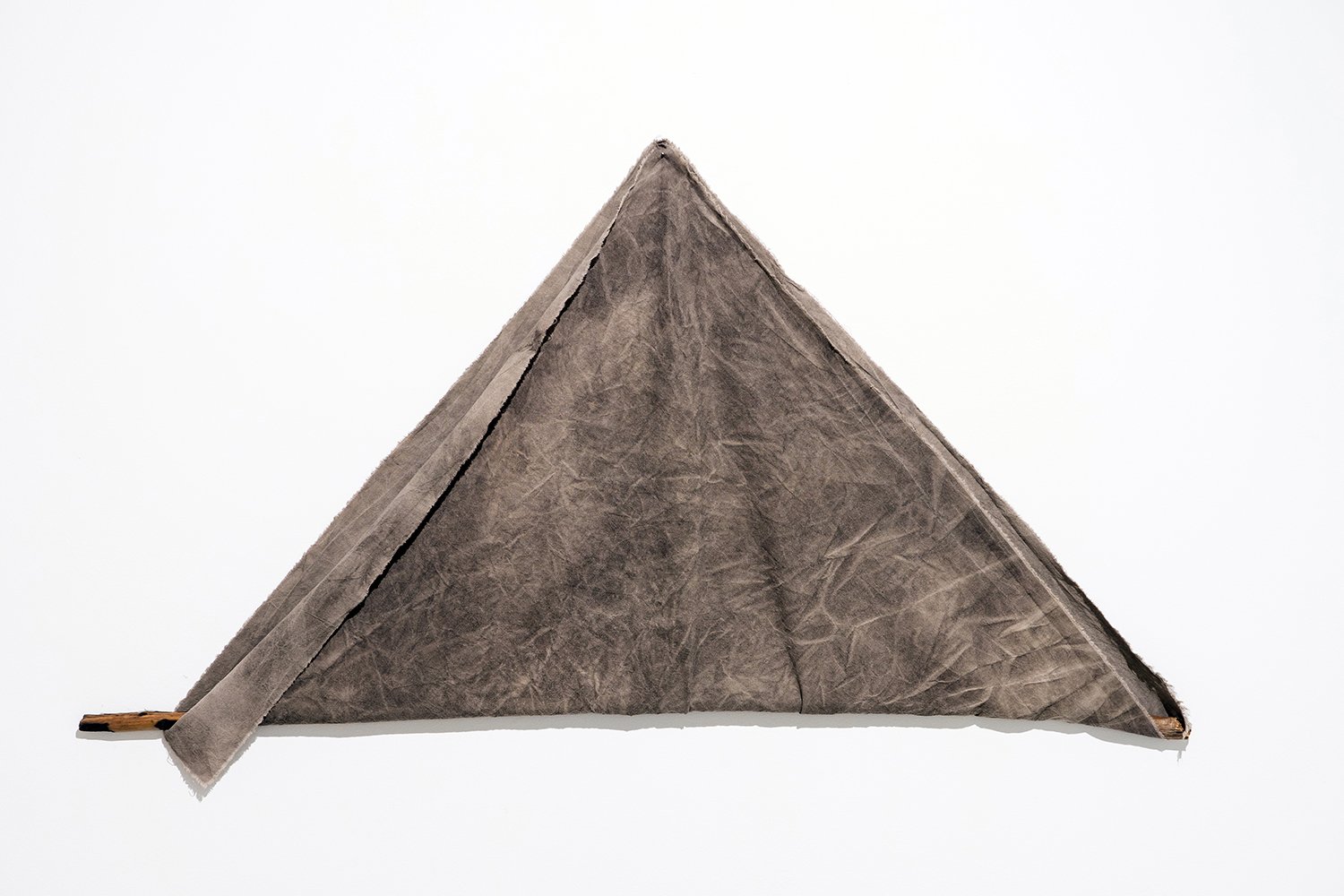 Katie West 
Dominik Mersch Gallery 
Tarrawarra Museum of Art, Clearing 
Museum Incognita
Cecilia Vicuña, biography
Cecilia Vicuña, Lo Precario/The Precarious
Regina Pilawuk Wilson
Kathleen Korda
Tyson Yunkaporta's Sand Talk 
Image captions
Portrait photograph by Zan Wimberley
Katie West, Nyinyart Yinda Artist Residency, Juluwarlu Aboriginal Corporation, 2017. Photograph by Juluwarlu Aboriginal Corporation
Katie West, Decolonist 2016, naturally dyed silk and thread, eucalyptus leaves, digital video, dimensions variable, installation view, Next Wave Festival 2016, West Space, Melbourne, 2016. Photograph by Christo Crocker
Katie West, Clearing 2018–19 (detail), installation view, TarraWarra Museum of Art, Healesville, Victoria. Sound composed by Simon Charles with spoken score by Katie West. Photograph by Andrew Curtis
Katie West, Clearing 2018–19, installation view, TarraWarra Museum of Art, Healesville, Victoria. Sound composed by Simon Charles with spoken score by Katie West. Photograph by Andrew Curtis
Katie West, Hold 2018, calico dyed with eucalyptus and puffball fungus. Photograph by Ruben Bull-Milne