Interrogating the Past: First Nations Artists and Collections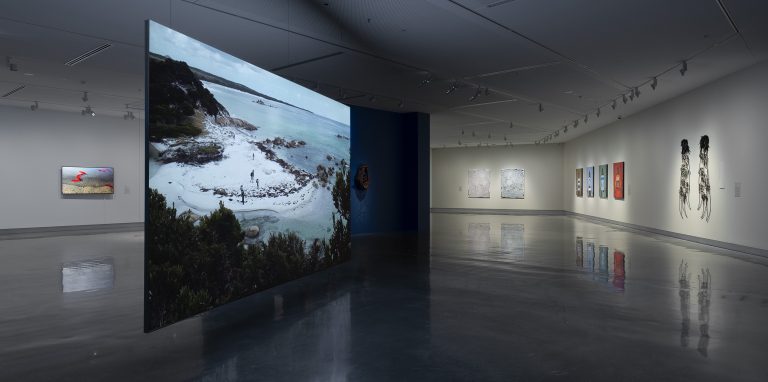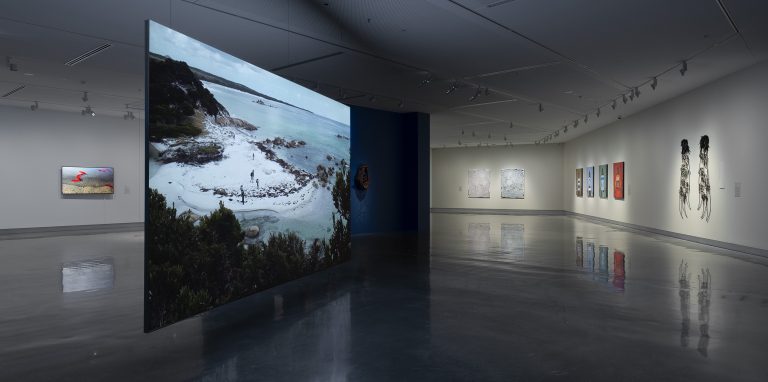 Installation view, Observance, Buxton Contemporary. Photograph: Christian Capurro
Join us for a panel discussion with Observance exhibition artists Julie Gough, Lisa Hilli and Angela Tiatia, moderated by Hannah Presley, exhibition co-curator and Senior Curator, Museums and Collections at the University of Melbourne.
The research of historical archives and collections underpins the artistic practice of many First Nations artists. Cultural materials held in museums and galleries around the world play a vital role in the reclamation and revitalisation of First Nation's practices, strengthening culture and informing the development of new work. Through their engagement with historical collections, artists assert their ability to interrogate the past and bring to light the truth of our shared histories.
Book online HERE.
Registration is free but places are limited.
Speakers
Born in Rabaul, Papua New Guinea (PNG), and living in Narrm/Melbourne, Australia, Lisa Hilli is a contemporary artist with lineages from PNG (Tolai/Gunantuna), Finland, England, and South Africa. Her work highlights the in/visibility of Black and Melanesian women's bodies through themes of landscape, history, and archival research, which she explores through photography, video, textiles, and installation. Her major works have culminated in touring exhibitions, including Trade & Transformations (2018), Social Conditioner (2015–2016), Vunatarai Armour & Midi (2015–2016), and Just Like Home (2010–2013), while others have been featured at galleries and events in Australia, Belgium, and the Netherlands. Hilli cofounded the Pacific Women's Weaving Circle and the Contemporary Pacific Arts Festival (Footscray Community Arts Centre, 2013–2015).
Julie Gough is an artist, writer and curator whose practice re-presents conflicting and hidden histories, many referring to her family's experiences as Tasmanian Aboriginal people. Gough is a Trawlwoolway woman whose Briggs-Johnson family have lived in the Latrobe region of north west Tasmania since the 1840s. Tebrikunna, their Traditional Country, is in far north eastern Lutruwita (Tasmania). Working predominantly with film, installation and archives, Gough revisits the past by visiting places where particular events occurred. Her works uncover unresolved stories and conflate past and present through reconfigured narratives of memory, time, location and representation.
Angela Tiatia's artistic practice explores contemporary culture, drawing attention to its relationship to representation, gender, neo-colonialism and the commodification of the body and place, often through the lenses of history and popular culture. Tiatia's work confronts ideas ranging from the intimate to the universal, often informed from her perspective and experiences as a Samoan woman.  Her work is held in numerous public collections including: the Art Gallery of New South Wales, Sydney; The Museum of Contemporary Art (MCA), Sydney; National Gallery of Victoria (NGV), Melbourne; Queensland Art Gallery | Gallery of Modern Art (QAG GOMA), Brisbane; Museum of New Zealand Te Papa Tongarewa, Wellington; Australian War Memorial Museum, Canberra; the Australian Museum, Sydney; the Christchurch Art Gallery Te Puna o Waiwhetū, Christchurch.
Moderator
Hannah Presley is an Aboriginal curator based in Melbourne, she is currently Senior Curator, Museums and Collections, University of Melbourne. She is a Director of Agency and curator of Primavera 2021 at Museum of Contemporary Art, Sydney. Hannah was Curator, Indigenous art at the National Gallery of Victoria and the inaugural Curator for the Yalingwa program at Australian Centre for Contemporary Art. Hannah was Curatorial Assistant for My Horizon: Tracey Moffatt at the 57th International Art Exhibition, Venice Biennale 2017. Her practice focuses on the development of creative projects with Aboriginal artists, working closely with artists, learning about the techniques, history and community that informs their making to help guide her curatorial process. Recent curatorial projects include A Lightness of Spirit is the Measure of Happiness, 2018, Australian Centre for Contemporary Art, Melbourne; Every Second Feels Like A Century, (with Debbie Pryor), 2017, West Space, Melbourne.