Hossein & Nassiem Valamanesh, What Goes Around 2021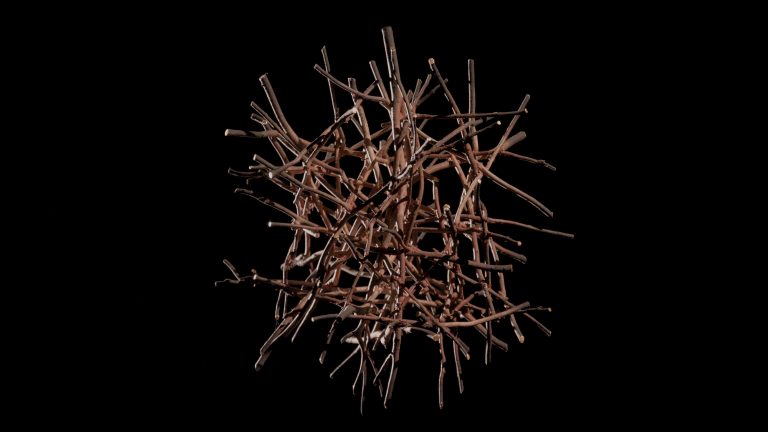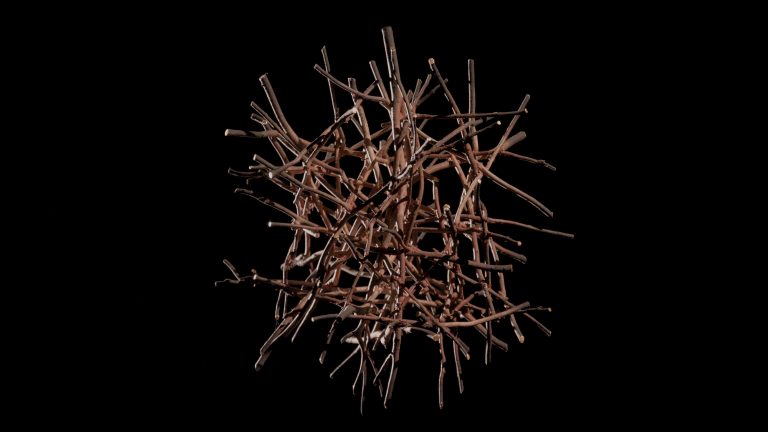 Hossein & Nassiem Valamanesh What Goes Around 2021 One channel video 5:20 Duration Thanks to Selena Tan & Angela Valamanesh © the artists Light Source commission, Buxton Contemporary, The University of Melbourne, 2021
What Goes Around is a moving image work by Adelaide-based artist Hossein Valamanesh in collaboration with his son, Melbourne-based filmmaker Nassiem Valamanesh.
An intricate, delicate, irregular and yet spherically shaped lattice of branches appears slowly revolving and perhaps adrift in a black space accompanied by a mysterious soundscape.
What Goes Around is a hauntingly poetic, enigmatic and resonant work. It evokes the celestial and cosmological and is alive with the memory of earlier installations and contemplations by the artist that are similarly in-motion variously whirling, turning and in-orbit.
This film-based work, which will initially be presented online and then in a large-scale video format at Buxton Contemporary, evolved from a sculpture that Hossein Valamanesh crafted from items he serendipitously found in his studio during the early stages of the 2020 lockdown. Upon re-finding materials that he hadn't worked with for some time, Hossein decided to use them to make a series of new forms that engage with ideas around chance and coincidence.
One of the outcomes was a memorial, formed from an upside-down chair holding a nest-like bundle of sticks with the four upwards facing legs alight with flames from small oil burners. The piece was made in memory of Honey, the Valamanesh's much-loved family dog, who at the time of making had recently passed.
Following on from this nest-like structure Hossein then crafted a spherically shaped arrangement of sticks and branches and suspended them in a configuration suggestive of a biological molecular structure, a cloud, nebula or perhaps planet, and worked with filmmaker Nassiem Valamanesh to capture and record the piece slowly rotating.
The accompanying sound is mysterious, somehow simultaneously musical, industrial and sci fi and yet is actually a recording by Nassiem of Hossein at work in his studio.
This new work links back to some of the more kinetic seminal earlier works by Hossein Valamanesh including The lover circles his own heart from 1993 which alludes to the ecstatic dance of the Mevlevi dervishes and reflects the artist's ongoing interest in interconnectedness, endless circulation and the passage and passing of time.
'It was fortuitous that we were invited to participate in the Light Source commissions and although I had already intended to document the object on video, this commission gave me the opportunity of further collaboration with Nassiem and the chance to develop the concept further. What Goes Around is our fourth moving image work together.
In our original proposal we were thinking of the sound of quiet meditative music but after we finished filming Nassiem suggested the sound of a grinding stone. This led to him recording sounds of me working in the studio, sounds of grinding, sanding, sawing wood etc. He has created a haunting soundscape different to what I imagined that has taken the work to another place.
I had intended that the rotating object would appear like a galaxy of stars but now it also reminds us of a micro-organism such as Covid-19. As you can see, one thing leads to another, and another….' Hossein Valamanesh
Hossein & Nassiem Valamanesh
What Goes Around 2021
one channel video
5:20 duration
Thanks to Selena Tan & Angela Valamanesh
© the artists
Light Source commission, Buxton Contemporary, The University of Melbourne, 2021
About the artists
Hossein Valamanesh's work is comprised of a myriad of elements to create enigmatic installations, sculptures and video works. With elemental substances, natural materials, and found objects, Valamanesh explores notions of an essential connection to place, the nature of being, and the ephemerality of existence. Valamanesh's work has been exhibited extensively nationally and internationally and is held in major collections including the National Gallery of Australia, National Gallery of Victoria, Art Gallery South Australia and in collections in New Zealand, Finland, France and Japan. Born in Tehran Iran, Hossein Valamanesh lives and works in Adelaide.
Nassiem Valamanesh was born in Adelaide and studied filmmaking at the Victorian College of the Arts. His work lies between narrative filmmaking and video art and is sustained by bold imagery, soundscapes and a sense of humour mixed with melancholy. A multi-skilled practitioner, he writes, directs, photographs and edits his pieces out of his workspace in Melbourne.